We Take Pride in Our Work
---
Outdoor patios are areas where you can enjoy the weather while still being in the comfort of your home. Patios can be made from concrete, bricks, pavers, tile, gravel, mixed materials, and more. They make for good places to barbecue, drink your morning coffee, host friends, and unwind after a long day. Patios can also easily be customized to include features such as outdoor kitchens, fire pits, grills, and bars. So, if you are interested in having a backyard patio installed in your home, rely on our hardscaping contractors.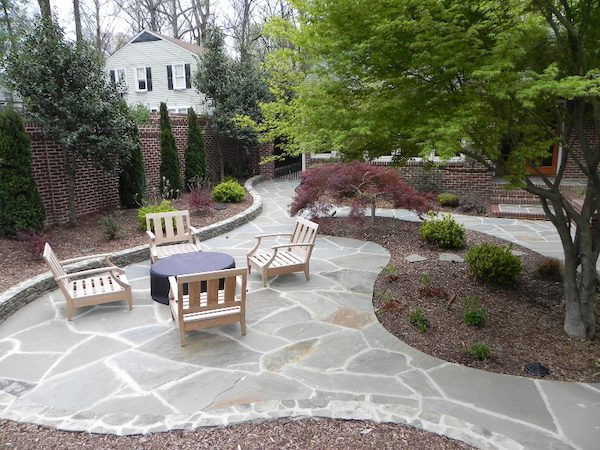 Benefits of Outdoor Patios
Extends Your Living Space: Your patio adds to the living area of your home. You can incorporate a grill, outdoor kitchen, or fire pit. This increases the functionality of the patio and gives you a space to enjoy yourself while soaking up the sun.
Host Friends & Family: When the temperatures heat up, we like to spend time with our loved ones. Our homes can quickly feel too crowded or stuffy when many people are over. A patio gives you a place to have friends and family over.
Boosts Property Value: Homes with patios are often appraised and sold for higher prices. That is because patios are a great place to host get-togethers, extend the living space of the home, and offer a place to enjoy a cup of coffee and fresh air while in the comfort of your home.
Enjoy the Sunshine: You can always go outside and enjoy a breath of fresh air and the sunshine. However, without a place to sit down, you do not get to enjoy that for very long. A patio gives you a place to unwind, take a load off, and take in some Vitamin D and fresh air.
Contact Our Hardscaping Contractor Today!
---
Old South Masonry Inc provides beautiful outdoor patios to the Cary, NC area. Patios offer many benefits such as an increased living area, a boost in property value, and gives you a place to host friends and family. Patios are highly customizable and allow you to incorporate what you want such as patio covers, grills, fireplaces, and bars. Contact us today to learn more about how we can create your customized outdoor patio!